Hello AALF Community Members! Happy 2013! I hope that all of you are enjoying the new year so far. I'm posting today to let you know about professional development e-courses that TakingITGlobal has on offer. We're planning to offer three cycles of each of our three courses, with the first ones starting in just over a week. Keep reading for more information, or visit tigurl.org/ecourses. If you have any questions, please contact me at kate@takingitglobal.org.

TakingITGlobal's graduate level, accredited e-courses attract educators from around the world. Identifying practical ways to implement pedagogies that reinforce the development of 21st century skills in students is the primary focus of these offerings. Each course is designed to support educators' unique needs and curriculum requirements. e-Courses feature five weekly classes facilitated online, in real time, by an experienced global educator; and engaging readings, assignments and projects. These competitively priced e-courses will each be offered three times between January and June, 2013:

Project-based Learning for Global Citizenship
January 23 – February 20, 2013
April 8 – May 6, 2013
May 15 – June 12, 2013

Education for Environmental Stewardship
January 22 – February 19, 2013
April 9 – May 7, 2013
May 14 – June 11, 2013

Empowering Student Voice in Education
January 23 – February 27, 2013
April 10 – May 8, 2013
May 15 – June 19, 2013

For more information about TIGed's e-courses and to register today, visit tigurl.org/ecourses.
January 16th, 2013 @ 11:45AM | 0 Comments | Post a Comment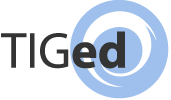 TakingITGlobal (TIG) is an online international charitable organization which serves youth worldwide through a multilingual online learning community (at www.tigweb.org) and innovative education programs (through www.tiged.org). These education programs are framed by the three pillars of global citizenship, environmental stewardship, and student voice in education. TIGed's professional development program offers accredited graduate-level e-courses that aim to empower teachers around the world to utilize technology to create innovative and transformative global learning experiences that build 21st Century Skills and foster global citizenship amongst their students.

TIGed e-courses feature:
• Weekly classes facilitated online, in real time, by an experienced global educator and recorded to ensure full flexibility and access;
• A private virtual classroom space that allows participants to connect between classes to share ideas, collaborate, and engage in meaningful dialogue;
• Challenging and engaging readings, assignments and projects; and
• An approach to learning that encourages personal reflection.

Here's what previous participants have to say about TIGed's courses:

"This course has broadened my horizons in the areas of global education and highlighted ways in which I can more actively engage in these kinds of models."

"This course had a deep impact on my understanding the importance of global education. It has further made me aware of specific tested tools on global education."

Upcoming course schedule:

Project-based Learning for Global Citizenship
• September 17 - October 22, 2012
• October 29 - November 26, 2012
Education for Environmental Stewardship
• September 25 - October 23, 2012
• October 30 - November 27, 2012
Empowering Student Voice in Education
• September 20 - October 18, 2012
• October 25 - November 22, 2012

For more information about TIGed's e-courses and to register today, visit tigurl.org/ecourses
August 10th, 2012 @ 11:01AM | 0 Comments | Post a Comment